Digital Archaeology Research & Assessment in Nepal
Putting a priority on Nepal's Heritage Buildings
Assessment of Cultural Heritage
It is virtually impossible to put a value of one building over another in Nepal. While one building may be the oldest Buddhist stupa another may be the most important Hindu temple in Nepal. Likewise relatively unknown shrines containing unique singular artifacts are irreplaceable.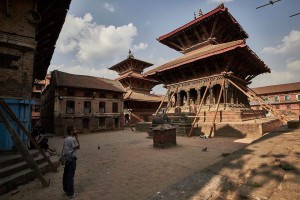 Furthermore Nepal, post 2015 earthquake, has shown signs of instability politically, economically and environmentally. The mere fact that there is so little documentation available has sent alarm bells ringing in the ears of many an archaeologist, historian and indeed anyone who values Nepal's unique heritage.
We have drawn up a list of buildings and artifacts that we believe cover the vast majority of Nepal's most important heritage sites. We are working on a phase system.
Phases
Phase 1 is a list of top priority sites for Digital Preservation along with digital capturing.
Phase 2 is digital reconstruction, reassessment and secondary digital captures of major/minor details etc.
Phase 3 is completion of digital reconstruction, archiving and assessments.

The list is by no means fixed. Our own constraints of time and budget mixed with the obstacles that Nepal constantly throws up means we have to adjust to each situation.
Evaluation and discovery
Our field assessment of Bungamati revealed that there was indeed nothing left of the central square. The fabulous shikhara style temple and Bhairab temple were completely destroyed.
However, we were able to ascertain that the Bhairab shrine survived as did the the Karya Binayak Temple behind Bungamati which is now on our list for priority phase 1 among many others.
People who have visited Nepal and have any extensive photographs of Bungamati can help. Please consider sending them to us here so we can assess their value for the digital archive.
Data acquisition before digital reconstruction
While it's great to look at nice 3D reconstructions and animations our priority remains digital acquisitions.