About the Digital Archaeology Foundation
Using digital archaeology to protect & preserve heritage
Our Story
The Digital Archaeology Foundation was founded following the 2015 earthquake in Nepal. While involved in post-earthquake research in Nepal it became increasingly of concern that there was a lack of data on the temples that had been destroyed. Let alone the remaining temples either intact, damaged or dilapidated.
Furthermore while there were many people on the ground ready to begin rebuilding, the sheer lack of architectural designs, engineering plans or even simple photographs of the destroyed monuments meant their reconstruction remained at a prolonged standstill. Disaster recovery for heritage sites, though often talked about, never actually made it to fruition. While humanitarian aid had international backing, cultural aid remained an afterthought.
Early statements from the Nepali government proved encouraging with indications that reconstruction would begin in earnest. However the reality on the ground was different. Plans for rebuilding were delayed while various sub-committees were sought out to oversee the projects.
Further delays occurred as it was revealed nothing would be done until the long-awaited constitution would be ratified. Following this Nepal changed prime ministers and then descended into a fuel and supply shortage due to a constitutional dispute along the Indian border.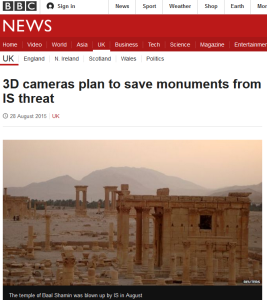 While the Department of Archaeology in Nepal was ready to begin plans and the funding was available the funds were perpetually delayed.
In recent news 3D cameras have been launched by archaeologists from the Institute of Digital Archaeology to help preserve ancient sites from destruction by the Islamic State group in Syria.
Though not under direct threat by terrorism Nepal's temples have been destroyed by recurring natural disasters throughout their history. Now, they are also caught in a bureaucratic quagmire and are drastically underfunded. The future for them is uncertain.
The Digital Archaeology Foundation set about as a private project that did not physically touch any building yet was able to digitally save these monuments of immense cultural wealth before any event occurs or reoccured that may result in their complete destruction. Initially contacting the Institute of Digital Archaeology with an outline of a plan, 3D cameras were sent to aid in preserving Nepal's monuments, temples and artifacts.
After initially using these 3D cameras we saw that they did not produce the high resolution imagery we needed to truly preserve these monuments digitally. We upgraded our own cameras, equipment using the latest technology to better fulfill the unique requirements needed in Nepal.
Using our own systems we could fully digitally preserve any temple, monument or artifact and reproduce it in a high resolution 3D model.
The Digital Archaeology Foundation is a private, zero-profit personal project and does not accept payments nor donations.
The above images show the Vatsala Temple in Bhaktapur Durbar Square both before and after the 2015 earthquake. The stone temple was completely destroyed. There was no 3D imagery ever taken of this temple. Construction has yet to begin.
Currently the Digital Archaeology Foundations Nepal project is privately funded by David Ways through The Longest Way Home. We have a team of volunteers helping us both in fieldwork, data processing and to liaise with local communities.
The data we collect is sent to the IDA in Oxford for referencing and preservation. It is also stored locally, in our own digital archive of Nepal and in several secure locations around the world.
All monuments, buildings, temples and artifacts we digitally preserve will be free to the public, government department and cultural preservation organizations through our Digital Archive of Nepal. The data we collect will be used for research, heritage preservation, heritage appreciation, reconstruction planning, educational programs and 3D replication to aid in rebuilding and restoration work.
This form of digital preservation is the first of its kind to be carried out in Nepal. As pioneers in digital preservation in Nepal we have helped to build a permanent road to securing heritage in Nepal post 2015. We believe that by digitally preserving Nepal's heritage we are not only protecting its history but also helping to educate people, create a sustainable archive and preserve the country's history for the future.
The above images show the Balkumari Temple in Patan, Nepal. It's a one of kind temple housing original and replica shrines which exist nowhere else. The Digital Archaeology Foundation has already reproduced this temple in 3D along with its irreplaceable artifacts.
Image 1. shows the temple as it stood in 2015 during a field assessment. Image 2. shows the temple as an un-textured 3D model during our digital reconstruction phase. Image 3. shows the temple with texture being added to it during the final digital reconstruction phase.
The above 3D image is the original Ganesh shrine found inside the Balkumari temple. The Balkumari shrine itself was also found and digitally reconstructed. The Bhairab shrine is fixed within the main shrine area inside.
In our initial phase one plan we are primarily focused on capturing as much data as possible in the field along while ensuring its long-term preservation.
Given the current predicament Nepal is in we feel time is of the utmost essence to preserve these monuments.
It's our aim to not only preserve cultural heritage but make it accessible to every person in Nepal and throughout the world. During phase 1 we were the first to use such technology. Since then, electricity has returned to Nepal, internet has improved and digital reconstruction has become widely understood. 
There is a saying in Nepal, "We'll do it tomorrow." 
Today the Digital Archaeology Foundation is a private personal project.
Tomorrow never comes in Nepal, it's better to do something for tomorrow, today.
Quick facts: Damage to buildings, temples and monuments from the 2015 earthquakes
Number of monuments destroyed
Number of monuments damaged
Time remaining to preserve monuments